Tuesday May 18th was the media workout for the WBC champion Vitali Klitschko (39-2, 37 KOs) and challenger Albert Sosnowski (45-2-1, 27 KOs) ahead of their WBC championship clash on Saturday, May 29th in Gelsenkirchen, Germany at each of their respective training camps. Vitali had is media and public workout at his training camp in Going, Austria, while Sosnowski was at his training camp in Wisla, Poland.



Klitschko Quotes
On Albert Sosnowski
"I expect Albert Sosnowski to be in the best shape of his life. I am sure that he will not run and hide like my last opponent Kevin Johnson. He said that he will give his all to get my belt, but I am well prepared and will not underestimate him. Albert Sosnwoski is not a big name and not so famous in boxing so far. But that does not count at all. He will be very powerful and will always go forward. He will do anything to get my title."
On preparation
"I have trained very hard and I am in a very good condition. I am prepared to go 12 rounds if I have to."
On the fight at the soccer stadium in Gelsenkirchen, Germany
"I am looking forward to fighting in a big arena as my brother Wladimir did in Schalke and recently in Düsseldorf. The Schalke stadium is great and I am really looking forward to going there in a couple of days. I know from Wladimir's fight and from soccer matches I have attended in the arena that the fans and the atmosphere are terrific."
On future fights
"Fights against David Haye and Nikolay Valuev are interesting fights, but I am not sure if they dare to step in the ring with me or my brother. Anyway, I am not thinking of any other opponents than Albert Sosnowski right now. "
On being a professional athelete and a politician
"Right now I am able to handle both sides well, like Manny Pacquiao in the Philippines. I want to implement western standards in the Ukraine, my country has so much potential and I want to help to make things better."
Fritz Sdunek Quotes
** Vitali's trainer:
"Vitali is in an extraordinary shape. Once again, he improved his boxing skills. We have worked a lot on his footwork and he went through more than 110 rounds of sparring."
---
Klitschko Sosnowski Workout Pics
**Sosnowski Pictures**
**Klitschko Pictures**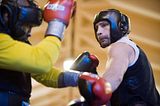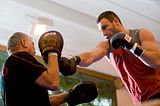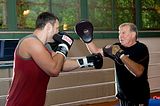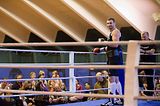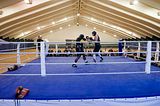 ---
Check out
Klitschko vs Sosnowski ticket information here
.
This fight is being presented by K2 Promotions and the Klitschko Management Group, and is being distributed in North America by Integrated Sports Media live at 3 PM/ET and 12 PM/PT on both cable and satellite pay-per-view via iN Demand, TVN, DIRECTV, and DISH Network in the United States, as well as Bell TV, Shaw PPV and Viewer's Choice in Canada. The suggested retail price is only $24.95.